Bio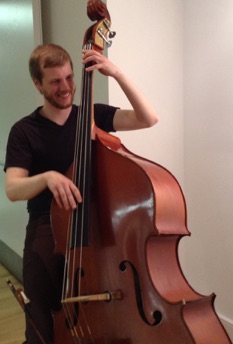 Wesley Morgan is a professional musician, educator, and composer in the Chicago area. An experienced performer on both the electric bass and double bass, he brings a high level of creativity, energy, and enthusiasm to every performance.
While growing up in Kansas, Wesley took an interest in music at an early age. After trying several instruments, he settled on the electric bass shortly after his 13th birthday and followed with the upright bass a year later. In 2004 he moved to Memphis, TN in order to pursue a Bachelor of Music degree with an emphasis in recording technology from the University of Memphis. In addition to studying the recording arts, he also dedicated much of his time to improving his facility on the double bass under the tutelage of jazz bassist
Tim Goodwin
. After graduating in 2008, he spent several years teaching and performing around the Mid-South before relocating to Illinois in 2013. He attended Northern Illinois University as a graduate teaching assistant, where he studied with bassists
Kelly Sill
and
John Floeter
. During his time at NIU, Wesley instructed students in the areas of music history, music technology, and jazz performance. He received his M.M. in Jazz Studies in 2015. Currently, he resides near Chicago with his wife (and mixed media artist)
Angela Morgan
, where he maintains an active performance schedule, serves as an adjunct faculty member at Lewis University, and offers private music instruction.
Wesley enjoys many styles of music, and as a result has performed with a variety of groups spanning the musical spectrum. He feels that as long as music is written and performed with passion, the labels attached to a genre should not stifle his duty to represent the artist's work in the best way possible.
Musicians/bands Wesley has collaborated with
(a sampling, not comprehensive):
Surphace (original rock)
Betty Trap (original rock)
Lady and The Tramps (60's-90's rock and pop covers)
The Olde West (original rock)
Ken Weatherford (singer songwriter)
Gary Hardy (Sun Studio classics)
Noah Glenn
and the Cloudspotters (original rock music)
Jimmy Harris (acoustic rock)
Mike Joyner
(singer songwriter)
Southern Comfort Jazz Orchestra (big band)
Brandon Ticer (singer songwriter)
NU Collective
(modern Jazz)
Sanctuary Jazz Orchestra (big band)
Southaven Community Theater (Les Miserables)
Adrenaline(60's-modern rock, pop, blues and R&B covers)
Germantown Community Theatre (Ruthless! The Musical)
Rosebud Jazztet (jazz combo)
New Music Ensemble (new music)
Jazz & improvising musicians:
Will Dougherty,
Jim Spake
, Micah Lewis,
Gerald Stephens
,
Gary Smulyan
,
Kevin Norton
,
Jack Cooper
,
Anthony Williams
, Andre Acevado, Othman Djuliarso,
Brett Jackson
, Joel Linscheid,
Nathan Webb
, Noah Hernandez, Joe Restivo, Earl Lowe, Alfonso Sanders, Chris Parker,
Sal Crocker
, Jonathan Bass,
Chip Henderson
,
Mike Assad
, Logan Hanna, Rene Koopman,
Stephen Lee
,
Chris McBride
,
Marquis Hill
,
Willerm Delisfort,
Kelton Norris, Austin Cebulske, Tetsuya Nishiyama,
Greg Petito
,
Geof Bradfield
,
Reggie Thomas
,
Greg Beyer
, Beau Barry, Bruce Mak.
---